Walker Die Casting, a manufacturing company located in Lewisburg, Tennessee with 60 years of history is making transmission housings for trucks with a YIZUMI-HPM II-4500-A heavy duty die casting machine. Every two minutes, a robot will extract a product weighing approximately 57kg. This is the first 4500 ton machine that Walker has used in its 60 years of history, and presently is the largest die casting machine in North America.

Previously, the manufacture of the 57 KG transmission housing products was made by a gravity sand casting process. The gravity sand cast approach results in lower productivity and higher labor costs. When the demand for the 57 Kg transmission housing increased, Allison came to Walker to investigate die casting this part. This led Walker to a year and half long collaboration with YIZUMI-HPM for the design and building of the II-4500-A die casting machine.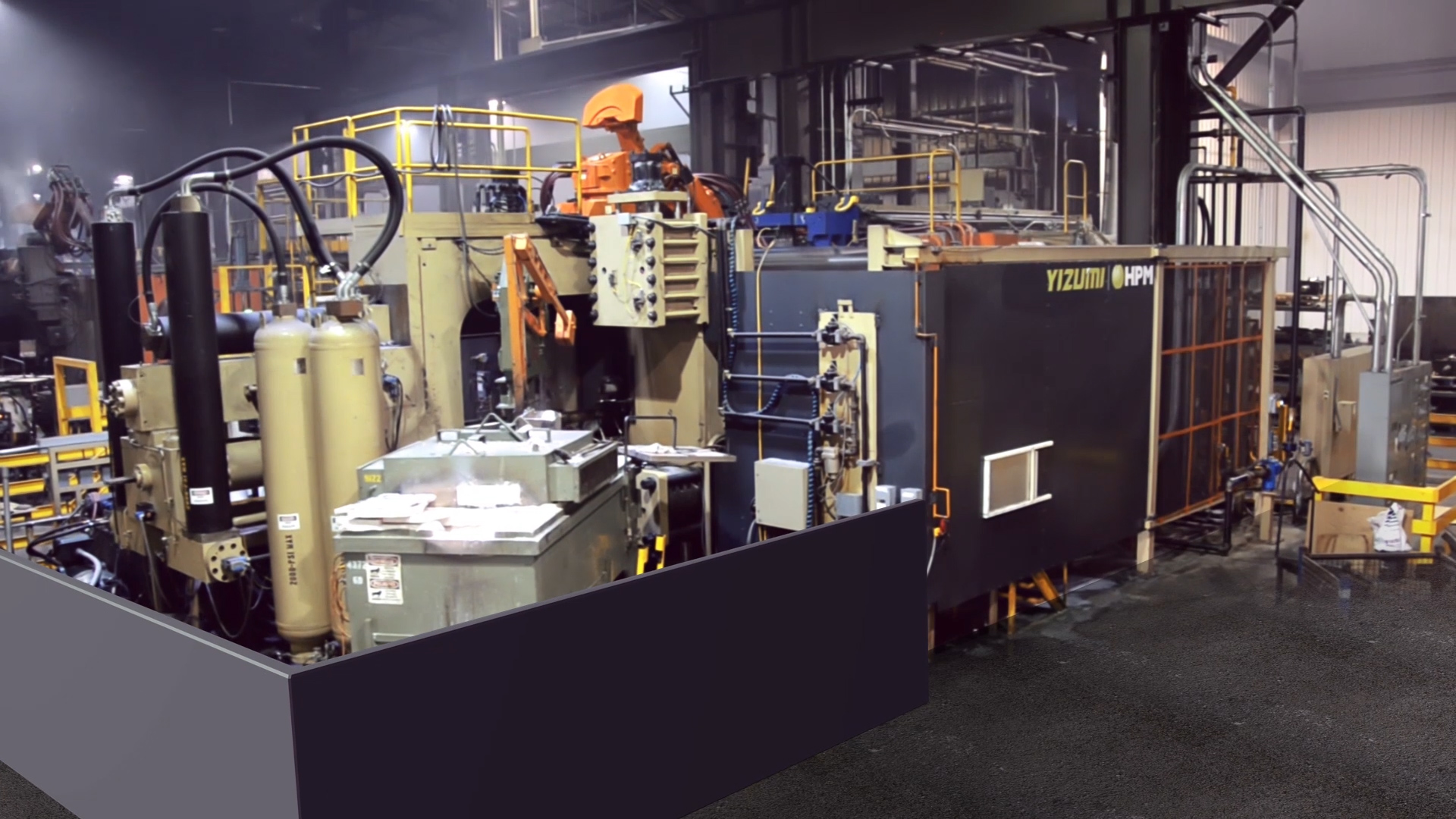 ---
Manufacturingthe largest die casting machine in North America

Founded in 1958, Walker has been focusing on the production of large aluminum die castings for automotive, heavy-duty trucks and buses, marine, and agriculture equipment. With 35 casting machines from 800 to 3500 tons (including the previous three HPM 3500T and four 1800T die casting machines), it was well known in North America for its outstanding technical expertise and well recognized by customers as a supplier of large die cast aluminum parts.. As a corporate member of the North American Die Casting Association (NADCA), the company's president John R Walker recently chaired the organization.
When Walker first considered making thelarge truck transmission housing, they considered producing it on their YIZZUMI-HPM 3500 ton machines. However, the die size and weight would make this difficult. In addition, to reduce the weight and production cost, the transmission housing originally assembled by several pieces now became a unibody workpiece, which requires a casting machine with larger capacity. In 2015, Walker talked with its old partner (HPM), now named YIZUMI-HPM, discussing the possibility of purchasing a 4500T die casting machine.
It would be the largest machine tonnage ever used by Walker, and the largest produced by YIZUMI-HPM. In addition, the shot cylinder diameter was increased to 13" with a shot speed of 250"c. YIZUMI-HPM set up a dedicated project team and spent six months to complete the development and design of the machine. In order to meet the rigid YIZUMI-HPM Standards, YIZUMI-HPM and its owner YIZUMI Precision Machinery located new suppliers for the steelplatens, tie bars, and cast alloy steel linkage. Made of forged steel, each of the main three platens weighs more than 50 tons. Walker's project leaders also came to the processing site in China to inspect the quality and specifications of the parts as well as the related certificates. All large critical parts were dimensionally checked on YIZUMI's large coordinate measuring machine. During this time, Walker was also preparing the facility, including the automated part removal system, furnace, and other auxiliaries.
In June of 2017, the 4500T casting machine was shipped to Walker's factory in U.S. and installed in five weeks. Within 12 weeks, the machine cell was in full production.
After 18 months of work from receiving the order, the project design, manufacturing, transporting, and installation of Walker's 4500T, the die casting machine was finally ready for production in October of 2017, making truck transmission housings for Allison Transmission, the world's largest manufacturer of automatic transmission and hybrid power system for commercial vehicles at a 2-minute cycle time.
---
100% stable operation
With a size of 58.42cm in height, 48.26cm in length and width, and a weight of 57kg, the housing for this truck gearbox itself is a giant workpiece. To ensure the product quality, Walker closely monitors the temperature/injection speed and injection pressure of the molten aluminum for conformity with the set parameters.
Mr.William Flickinger, technical leader of the project and former president of HPM, said that the HPM4500T die casting machine was built in full compliance with U.S. Safety Standards, YIZUMI-HPM high quality design and rigid material standards. The machine also has independent power units for both the clamp and shot end.
"The 33cm diameter injection cylinder can provide a 250 in/s dry shot speed to ensure an injection of the molten aluminum into the mold cavity. Both movable platen and fixed platen have 6 sets of core pulls. Along with the oversized platen and clamping stroke, they guarantee the successful molding of large die castings."
In fact, the performance of the HPM4500T die cast machine has been extraordinary. As said by the Walker's PRESIDENT John Walker, "Since Walker started to use this machine, it has been running quite well. The stability is nearly 100% and machine up time is very high. The productivity is also higher than other brands."
Today, in addition to making truck transmission housing, Walker also use HPM4500T to manufacture other die cast parts. The use of HPM4500T die cast machine not only enable Walker to design and produce unibody large parts for less cost, it also facilitates the installation of more large-scaled dies and expands its capacity to handle additional large die casting orders in the future.
The 2-year cooperation and communication as well as the outcome of the machine stability have greatly boosted the confidence of Walker in YIZUMI-HPM. Recently, Walker has acquired another HPM1800T die cast machine. While the sales volume of large castings is continuously growing, Walker plans to order a second HPM4500T die casting machine in the near future.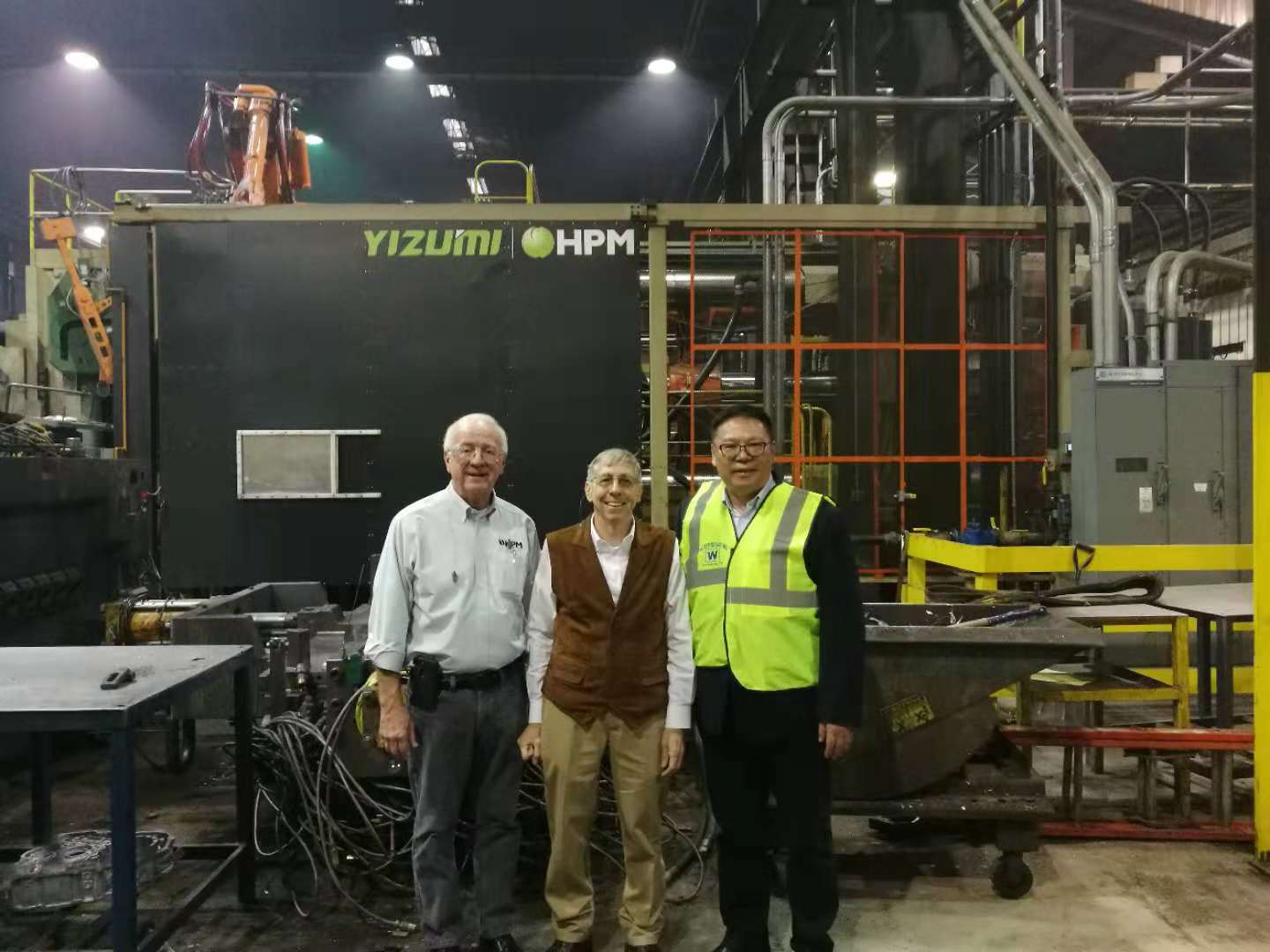 Technical leader of the project and former HPM president William Flickinger, Walker Die Casting President John Walker and Yizumi Managing Director Richard Yan(from left)