C Series Wide-platen high-end multi-component injection molding machine molding two-color lampshade

Following the successful launch of the MultiPro multi-component molding process at Chinaplas 2018, Yizumi docked German technology and deeply cultivated multi-component applications in 2019, especially in the automotive industry. The products has been purchased by customers such as Shenzhen Silver Basis, Shanghai Yinghui and BYD etc., and used to produce two-color lampshade, car seat decoration, car center console and other auto parts.
MultiPro conforms to the trend of consumption upgrade. It can design modular systems of different types and sizes of injection units based on different product applications, so that multiple types of shots can be flexibly and quickly matched to meet the individual needs of the market, realizing double components, three components, and even special components, multi-component injection molding.
Based on the research and achievements in the field of auto parts production, this year, Yizumi MultiPro will highlight the Chinaplas 2019 with the automotive two-color lampshade molding solution. The C series wide-platen high-end multi-component injection molding machine UN550C-BTP provides better cost-effective solution for the stable molding and personalization of the auto lamp cover in automotive industry.
As a new generation of dual-component model, this year's C-series high-end multi-component injection molding machine brings more new value to customers:
(1) Higher stability: "Intelligent compensation technology for molding defects", intelligently adjusts the injection molding parameters, eliminates the influence caused by the mold and peripheral auxiliary machines, and makes the molding stability higher, and the product weight repeatability is up to 1‰;
(2) Higher turntable control accuracy: DCPC digital closed-loop positioning technology is adopted, the turntable action is fast and stable, no impact, accurate positioning, and the repeatability is ±0.001 degrees;
(3) Better medium and low speed control stability: The system can achieve smooth injection at speeds below 5%, and the speed deviation does not exceed 5 ‰, which enables the low speed molded products to obtain a better molding process; The technology is more suitable for the molding of automobile lampshade, and can effectively avoid product defects such as stress and ripple caused by unstable injection speed.
(4) More free and modular design of injection unit: standardized universal interface and flexible software functional combination technology, can change the injection unit and process sequence quickly, making personalized production possible; customers can choose different according to their own product needs For shooting stations, such as precision products, you can choose electric shooting platform, ordinary multi-component products choose hydraulic shooting platform, and silicone products choose silicone shooting platform. Customers can choose different injection units according to their own product requirements: for example, for the production of precision products, they can choose electric injection unit, for ordinary multi-component products, they can choose hydraulic injection unit; and for silicone products they can choose silicone injection unit.
Focusing on providing customers with high-quality multi-component injection molding solutions, in the future, Yizumi China Headquarters will work closely with Yizumi Germany to develop the camel-type turntable for European market application needs, connect German advanced technology and deepen the frontier applications of MultiPro process.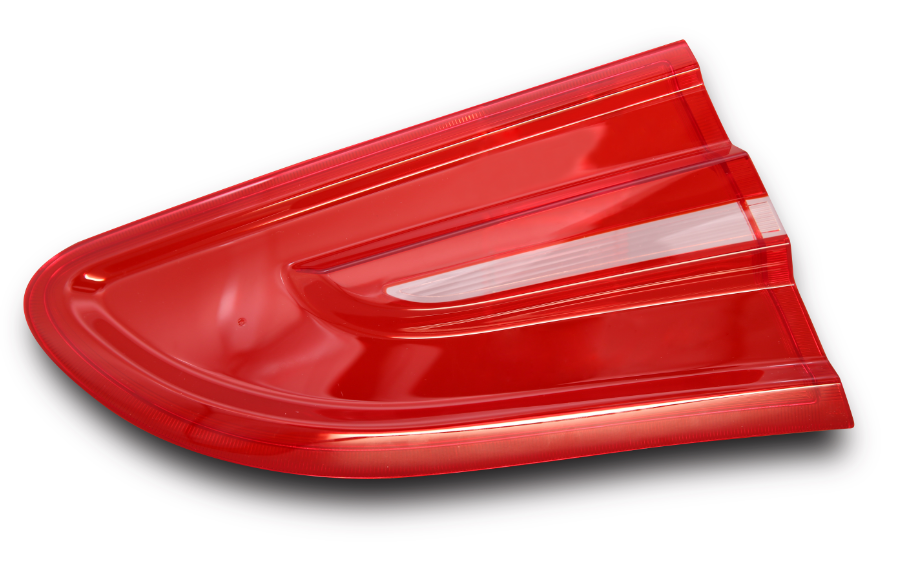 Cavity: 2+2
Material: PMMA + PMMA
Size (L x W x H): 280 x 150 x28mm
Weight: 107g
Cycle time: 60s