In 2017, Yizumi has reached its 15 years old, and Die Casting Machine Division has also been established for over 14 years. Through the years, Yizumi die casting machine has grown so rapidly and has become the leader in die casting machine industry. New market pattern has been created.
After settlement of market position, Yizumi starts to plan its future blueprint. By absorbing the technology of HPM North America, Yizumi has invented the high-end H series heavy-duty die casting machine (1000-4500T) and 4500T HPM die casting machine, which helps it successfully step into the heavy-duty era. From now on,Yizumi will move its eye sight on global market, and develops complete die casting solution program and better molding technology.
Technology innovation + manufacture upgrade
In the field of equipment manufacturing, the development of technology is the key factor among the others. One of the reasons why Yizumi is able to develop so quickly is its technology innovation. The director of Yizumi R&D Center Mr. George introduced that owe to the performance improvement of injection and intensification, Yizumi small and medium tonnage of die casting machine has been quickly recognized in the market as soon as they were launched to the market 14 years ago. Yizumi die casting machine simple-integrated injection system adapts non-floating piston structure design to avoid homogenization of other competitors. The maximum air speed is ≥8m/s, and the pressure build uptime is ≤15m/s.
Relying on the improved performance and creation, Yizumi small and medium die casting machine has taken large market share. Especially standard DM300 die casting machine, it has stayed in an absolute lead in smart phone parts die casting area with large market sales.
While the market size for small and medium die casting machine is growing stably,Yizumi heavy-duty die casting machine is starting to attack the current market. With the annual output of over 50 sets heavy-duty die casting machine, Yizumi has over 300 sets are running in the market which were used by over 90% die casting leading enterprise. It has taken over 40% Yizumi die casting machine sales and still with double digits growing rate.
"The key to support the fast development of heavy-duty die casting machine is the real-time control technology." Mr. George said. Closed-loop real-time control is the most outstanding feature for this technology. It can be able to adjust the performance parameters for injection system immediately while the parameters are fluctuating in order to satisfy the production requirements.Meanwhile, because of the wider low-speed setting, the switch speed between high and low speed has increased, with more flexible high speed brake function for a better product & to protect the mold better.
Mr.Li, the vice general manager of Yizumi die casting machine division , indicated that there are only couples of global die casting machine manufacturer have acquired this technology at present, and domestic die casting machines are still in behind. So we can say that Yizumi is the first domestic manufacturer that has the revolutionary breakthrough in real-time control die casting machine.
The renovation of technology makes Yizumi has the capacity to stay in competitive.Meanwhile, the increased manufacturing capacity has helped and supported the development of heavy-duty die casting machine. Nowadays, Yizumi has intensified its hardware platform by bringing in such as TOSHIBA five-sided machining center, TOS WRD150Q CNC center, three-coordinates measuring instrument and laser tracker. It helps to improve the level of producing die casting machine,especially heavy-duty die casting machine parts. For example, Yizumi is now able to process a frame base that over 10 meters in one time, and each key component will pass the accuracy test after that.
The upgrade of technology and manufacture helps Yizumi became the leading company in die casting machine market. In present, Yizumi is able to satisfy the market needs for high requirement products such as thin-walled structure product like light alloy phone parts, thick-walled structure product like vehicle engine cylinder and auto gearbox shell, which can be easily made by Yizumi die casting machine.
HPM4500T die casting machine – joint designed by Yizumi and HPM NA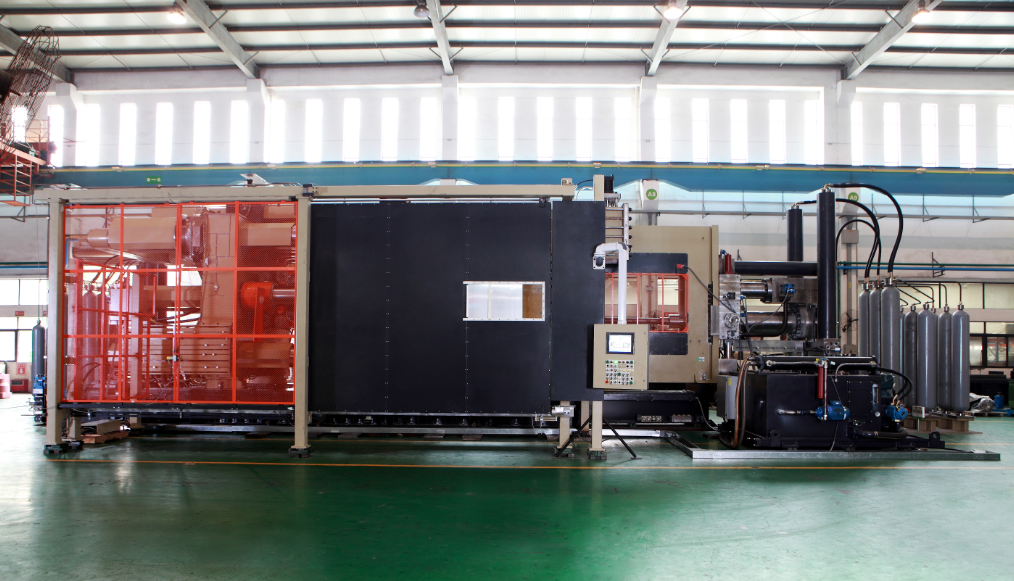 Let say if the result of stepping into the heavy-duty era is the upgrade of technology and manufacture, then the acquisition of HPM North America in March 2011 is the historical turning point for the development of Yizumi heavy-duty die casting machine.
HPM is one of the biggest die casting machine and injection molding machine manufactories in North America. Its heavy-duty die casting machine was very famous and it was the mainstream equipment in all North America large die casting manufacturers. After the acquisition of HPM, Yizumi technical engineering team went to America a lot of times to study and to absorb HPM designing theory as well as their essence. At the same time, they applied what they have learnt to Yizumi's product, supply chains and manufacturing processes. "HPM theory has changed the thought of Yizumi teams step by step",Mr. Li said. HPM hundred years of experience, especially in standard design and material standards, has given Yizumi a great help and improvement.
The solid material standard of HPM can be seen from the platen material used. Standard die casting machine platen normally uses cast iron orcast steel, so the complex rear platen structure can be made by casting.However, the material HPM use for their platen is forged steel, as well as most of their machine parts. So this type of complex machine structure will have higher durability and reliability.
"HPM focuses on zero faulty standards while producing", Mr. Li said. Also, because of this reason, HPM heavy-duty die casting machines are still operating normally in their client's factory in the past 50 years.
To make sure the high efficient operation, HPM also have their own unique design – die opening/closing, ejector core pulling, fast injection and intensification by using separate independent pump station design. The kinetic energy for each action is not only from the oil pump, but also from the large independent controllable accumulator, this can ensure HPM die casting machine has the highest working efficiency among their same level competitors, and that helps their clients to produce more products at per unit time.
In 2015, HPM NA has also taken down a 4500T die casting machine order from a famous auto parts enterprise from North America --- Walker Die Casting. From 2016, Yizumi and HPM NA R&D team has joined together to design this machine. This machine has now finished the installation and commissioning, and it has been shipped to client's end. This is also the heaviest machine that produced by both Yizumi and HPM NA in their company history.
Mr.George introduced that HPM4500T is totally built according to America standards, continuously using HPM II series features, high standard and rigidity material and design, and multiple pump stations independent control system,to make sure the efficiency of production.
Mr.Li indicated that Yizumi 2500T and bigger heavy-duty die casting machine will use HPM standard clamping structure, standard design and standard material inthe future. The most challenging difficulty for heavy-duty die casting machineis clamping. However, we are now successfully produced 4500T die casting machine, which indicated that Yizumi has already achieved a breakthrough in heavy-duty die casting machine domain.
H series heavy duty machine complete iteration
One of the important indicator showing Yizumi has stepped in heavy-duty die casting machine era is the announcement of H series heavy-duty die casting machine(1000-4500T) launched to the market. This produce is completed in the new HPM-YIZUMI platform, and will gradually replace all Yizumi domestic standard heavy-dutydie casting machines on the market. This announcement also indicates that Yizumi heavy-duty die casting machine will be totally upgraded in the future.
"The reliability, durability and the stability of H series heavy-duty die casting machine has a huge improvement compares to the domestic standard one", Mr. George said. H series heavy-duty die casting machine is particularly for the clients who have the common problems in using die casting machines in the past, it took around 5 years for Yizumi to develop this machine under HUAWEI IPD product development model condition. This machine has over 50 key improvements and over 100 auxiliary improvements. One of the most representative items is the improvement of platen deformation.
The deformation and cracking of platen is always a problem bothering most of thedie casting machine equipment manufacturers and the customers. For Yizumi H series heavy-duty die casting machine, a high strength steel plate with special heat treatment has been installed on both of the fixed and movable platen surface, this can highly increase the rigidity of toggle movable parts, reduce the hardness and frangibility of the platen, enhance the toughness and the impact resistance loading capacity, improve the fatigue strength, and solve the platen problems such as platen surface sunken, structure deformation and cracking problems, which can enhance the life span of the equipment.
In order to enhance the stability of the machine, H series has leveled up its material standard even it is expensive. For example, Yizumi used to use steel for die height nut, but now, we use special cooper alloy to meet the heavy-duty die casting machine standard from Europe and Japan. "This can solve the problem of die height nut deformation and not movable situation; by using this material, the cost for each machine will increase more than US$15,000", Mr. Li believes, even though the cost of the machine is getting higher, H series heavy-duty die casting machine still meet the customer demand because the customer have higher expectation of the machine quality.
The quality of H series heavy-duty die casting machine will align with other famous brands in Europe and America, and will help the global high class die casting manufacturers set up a unique machine to use. Recently, H series heavy-duty die casting machine has been locked and loaded competing with European and Japanese die casting machines. The brave man wins in the narrow road; we hope our H series can become the most valuable heavy-duty die casting machine with advanced technology and high quality in the market.
Currently,all of Yizumi H series heavy-duty die casting machines have been successfully developed. With the mature application of H series heavy-duty die casting machine, Yizumi will focus on the whole set of die casting machine solution."Yizumi is looking for cooperation with European molding manufacturers." Mr. Li said. By using the product application as a connection, Yizumi can provide plans related to main machine, peripheral equipment and molding. "Die casting machine is not the only thing customer need, they also seeking for plans that help them to produce better products." Mr. Li continued, Yizumi will focus more on the development of die casting solution in the future.